June 18, 2008
---
I had to pull myself up off the floor (where I have been lolling with our new baby, Sylvia, for approximately six months) to get back to this blog and write about the latest birthing scandal. In case you haven't heard, the medical establishment is really pissed off about all the feel good home birth stuff that's been going on (thanks to Ricki Lake) and they want it to end. So they've come up with some kind of official statement about how hospitals and birth centers are the safest places for births. The long-term intent is to encourage states to make home births illegal.
Here's my opinion for what it's worth. I think home births are not the solution to what has shaped up to be a genuine crisis in maternal care in America. But the fact remains that home births are entirely appropriate for some people and there is no question that the thousands of excellent, experienced midwives who work tirelessly in support of women and babies would not be doing home births if they had women and babies dying on them! Here's the deal: home birth is really only advisable given certain factors, including a low risk pregnancy and ready access to a back-up hospital. Please believe me when I tell you that home birth midwives and women who want to live and have their babies live, know this! So it's not at all a question of what all women should be doing. And sadly, though Ricki Lake says she's all about "choice," her documentary--most of which I really loved--did go over the edge in terms of making home birth seem the only way a thinking person would go. It's a great movie, so there's no reason to alienate people who might support the idea but for so many possible reasons cannot have a home birth of their own.
Home birth isn't safest for everyone. There's no doubt. But does that mean the hospital "the safest" place for everyone to give birth?
Unfortunately, the statistics are not leaning in that direction either. One in three women are getting a c-section, increasing a variety of risks most very small, some large. One of the best points in Jennifer Block's PUSHED is that elective C-sections and unassisted home births are both "solutions" to the same crisis. Confronted with a hospital birth, some women think, "God, it all sounds so awful, just cut the baby out of me at a prescheduled time." Others say, "I'm just not going in there! I'll do it myself!" It may seem that the elective c-section mama and the unassisted homebirther have nothing in common but Block's point is that they are both just responding to a similarly lousy situation.
IDEALLY, there would be really fantastic birth centers all over the place so women really and truly have this so-called choice that everyone keeps talking about. And hospitals would have better policies (i.e. more rooming in and more labor support and fewer unnecessary interventions) and home births with experienced midwives would be legal in every state.
When I was ready to have my second baby in NYC - what's the population here 18 million??? -- everyone kept saying, "What about a birth center?" Well, I toured the birth center at St. Luke's and it was fine but there were about three rooms and the likelihood of getting into one the day I went into labor was very slim!
I think it's terrible that home birth and hospital birth are pitted against one another. I just don't want to see some poor woman die because she had a dangerous unassisted home birth and I can't stand watching the c-section rate soar. The more polarized this debate becomes the more likely we'll see that kind of thing.
I'm back! Missed you all. Hope to be here more often. Here's a baby face - Sylvia's -- to add a little sweetness to my diatribe.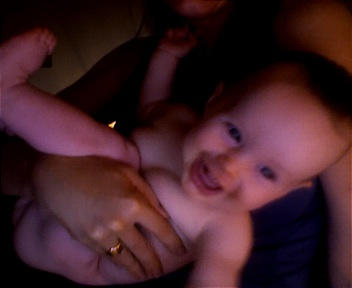 Posted by ceridwen at 10:17 PM | Comments (10)